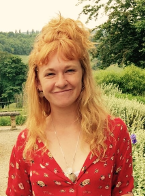 Natalie is not currently taking on new clients and will be taking a break from client work until March 2022. 
Whether you are struggling with current or past difficulty, I aim to offer a confidential space through which you are able to explore your own journey and place in the world. Whenever you feel ready, please feel free to contact me using the details on this page.
---
Throughout our lives, we will experience a variety of 'ups and downs'. Sometimes we are in a period of general health and at other times we might experience great stress and struggle. Very often, when difficulty is around, it can be hard to know where to turn for support. Difficulties in life may be experienced as depression, anger, grief, frustration, anxiety, a general lack of motivation or relationship breakdown. Through therapy, we work together to develop insight and understanding around your own path. The aim of this work is to uncover unconscious or conditioned 'ways of being' and to find a more satisfying and supported way of living. Sessions are one hour long and take place weekly. Mindfulness is a practice which supports individuals to manage thoughts and shift the way we relate to experience. Please find more information about Mindfulness here.
Initially, approaching therapy might feel nerve-racking or even a bit bewildering, but my intention is to ensure that this experience is as safe and as welcoming as possible. We do this by gently beginning to talk about what you might need from these sessions.
Background & Training
I am a UKCP-accredited Core Process Psychotherapist (Karuna Institute).
I have an MA (Hons.) in Psychology from The University of Edinburgh as well as training in behavioral therapies including CBT and DBT. I have been working within Psychology, group work and Talking Therapies throughout my working life, both within the NHS and third sector organisations. Over the years, I have worked within the realms of refugee rights, community action, personality disorder treatment programs and specializing in work with BAME communities. I have significant experience in group work, leading groups towards healthier, safer spaces through which we may get to know ourselves better.
As a UKCP therapist, I observe and abide by the UKCP Code of Ethics.
What is Core Process Psychotherapy
Core Process Psychotherapy is a form of psychotherapy that combines Western depth psychotherapy and the Buddhist tradition of mindfulness.
This approach emphasises awareness in relationship with ourselves, others and the world around us. As a relational approach, it is really important that you work with a therapist that feels a 'good match' for you. Core Process work is based on the premise that with awareness we are able to contact our true selves and, therefore, come closer to accessing our potential in life. This work involves coming to understand how our past and previous experiences, as well as our feelings about the future, impact our experience of the here and now; moving towards living in a fuller, more connected way.
Please click here to read more about Core Process Psychotherapy and Karuna Institute. You can also read an article about Core Process Psychotherapy here.
I am interested in broadening access to psychotherapy and maintain a number of concessionary places within my practice. Please feel free to check this with me if money feels difficult.
Fees and availabilty
I offer a free introductory 45-minute session. During this first session we can get a sense of whether we will be able to work together.
Sessions cost £45 and last for 60 minutes.
Sessions are one hour long and take place weekly. Together, we will navigate what you hope to explore and find ways of ensuring that this work is both meaningful and safe.
Contacting Natalie Ashley